Project Description
Avenue Spaces is an interior design company in Vancouver, BC with a twist. Using their cool online interview, they can get a good idea of what styling works for you, then a bit of consultation and they will do the rest! They'll source and deliver furniture and home decor items, paint and decorate. It is a very painless and efficient process for the client and surprisingly affordable.
We have done their on-page SEO, we've got Google Adwords up and running for them and are working on that ongoing. We have also had great fun getting them up and running on numerous social media platforms as well as putting together a comprehensive social media marketing campaign plan and executing it. We are looking forward to continuing to work on their social media and Google Adwords campaigns.
We also worked with them copy editing their blog posts and making sure they are SEO ready.
Project Details
Client Avenue Spaces Date January 2016 – Ongoing Skills Social Media, SEO, Copy Editing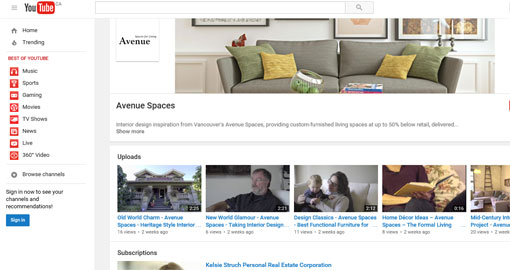 Social Media Marketing in Vancouver
Check them out on your favorite social media platform. Follow or Like them to see their latest projects  and the latest in interior design trends:
Contact us for all your Copywriting, SEO, Google Adwords and Social Media Marketing in Vancouver BC.