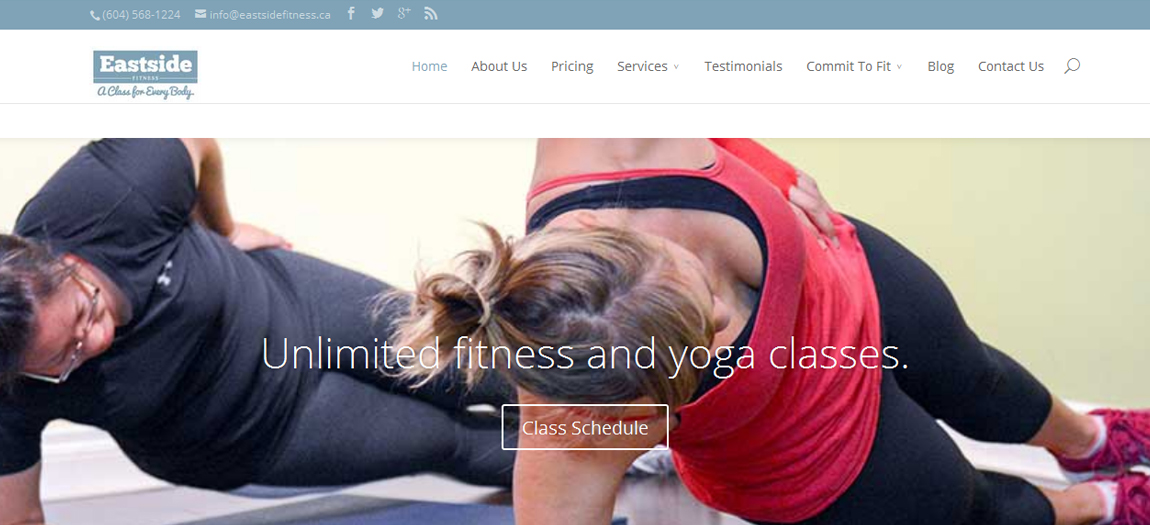 Project Description
We were pleased to help our friends and local Vancouver yoga and fitness studio, Eastside Fitness, make a responsive site, one with fonts and feel to showcase images of the customers in fitness action. Done in Divi 2.0 by Elegant Themes.
Why we love Eastside Fitness:
We love going to a fitness studio where there is a social aspect. If you feel like a chat, there is always someone there willing to have a little chat. Also, fitness classes for all interests and levels are offered, so if running isn't your thing then how about kick boxing, yoga or personal training. We never feel out of place, the workouts are geared to various levels which is important if you haven't gotten into exercise gear since the spandex days and equally important if you're a high efficiency athlete looking to get the most from your workout or somewhere in between.
Why we love Divi:
The Divi WordPress theme by Elegant Themes really does have it all. Ease of use, flexibility, responsiveness and beauty. What more can we say, as a business that has worked with many different WordPress Themes over the years we've seen the good, the bad and the ugly and even had to abandon themes mid stream for various reasons. Divi is one of the best by far. With out of the box templates that are easy to configure combined with custom colors, images, setup and logo, the client really can have a beautiful and unique site for a reasonable cost.
Owner Darnelle Moore was pleased with the new sliders and how easy the sliders and pages are to edit. She also loves having the schedule front and present on the home page. Onwards to more great years with Eastside Fitness!
Here's a shot of the original Eastside Fitness website:

Contact Lara Spence Web Design in Vancouver BC for all your online marketing, SEO, content marketing, web design and copy writing needs. Over ten years experience delivering web design projects on time and in budget!